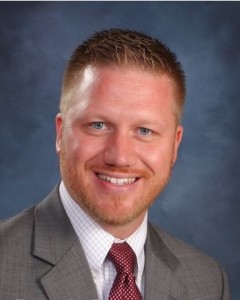 Benjamin D. Fryman is a founding partner and the current CEO of Schwerd, Fryman & Torrenga. He has largely devoted his past 14 years of law practice to representing injured people, including accident victims and victims of medical malpractice. He has successfully resolved hundreds of cases, including settlements and dozens of cases tried to jury verdicts and court judgments as both lead and supporting counsel. Mr Fryman is licensed to practice law in all Indiana State Courts, as well as the United States District Court for the Northern District of Indiana.
In addition to managing business at SFT Lawyers, Benjamin advises small business owners around Northwest Indiana on various issues, including startup, employment and acquisition concerns. He also represents the Roman Catholic Diocese of Gary along with Attorney Robert M. Schwerd, working to resolve various church and school legal issues. Benjamin also provides consultation on U.S. Constitutional questions for churches and municipalities.
Education & Background:
Benjamin was born in 1978 and grew up in Archbold, Ohio, moving to Northwest Indiana in 2002.  He completed a Bachelor of Science degree cum laude in 2001 with three majors: Political Science/Pre-Law, Economics, and Business Administration. He completed his Economics Major with a perfect 4.0 GPA and was awarded the Outstanding Economic Major Award, 2001.
In 2005, Benjamin received his Juris Doctorate degree from Valparaiso University School of Law.  He was awarded a merit -based, full-tuition scholarship and honors stipend to law school in 2002 and graduated in the university's Honors Program, while simultaneously serving as a member in the Valparaiso University Moot Court Honor Society (2003-2005) and the Valparaiso University Law Review (2003-2005) as both a Notewriter and Editor, as well as a member of the committee selecting articles for publication (2004-2005).  In 2005, Benjamin was nominated for the American Bar Association Award for Best Editorial in a Law School Newspaper or Magazine (2005). During law school, Benjamin worked for judges in two Lake County Superior Courts. He also worked as a Law Clerk for Federal Magistrate Judge John Martin while Judge Martin was a criminal defense attorney in the Federal Courts.
Legal Organizations:
Benjamin is a member of the Lake County Bar Association, the Porter County Bar Association, the Indiana State Bar Association, the Indiana Trial Lawyers Association, the American Bar Association and the American Inns of Court Porter County Chapter. He has served on the Board of Managers for the Lake County Bar Association since 2011. Benjamin is a Past President of the Porter County Bar (2015). In addition, he is a past Treasurer, Secretary and Vice-President of the Executive Board of the Porter County Bar Association. Benjamin is also a 4-time Chairman of the Young Lawyers Section of the Lake County Bar Association.
In 2010, Benjamin was selected for the Indiana State Bar Association's Young Lawyers Section (YLS) Council.  He served as the 2015-2016 Chair of the YLS of the Indiana State Bar and on its Board of Governors. Benjamin's commitment to the YLS is based in the belief that mentoring of new lawyers is necessary to promote a healthy understanding of the value of the rule of law. He has invested significant time in efforts to remind young attorneys of the message of Abraham Lincoln when he said, "Persuade your neighbors to compromise whenever you can. Point out to them how the nominal winner is often a real loser—in fees, expenses, and waste of time. As a peacemaker the lawyer has a superior opportunity of being a good man." Benjamin also notes that when no compromise can be reached, it is important for the attorney to remember that he or she is the liaison to the judicial system that the client needs to obtain justice in their case.