The Town of Griffith continues to mourn the great loss of a councilwoman and local hero, Patricia Schaadt.  She passed away  on Monday, December 19, 2016, just prior to receiving Indiana's highest civillian honor, the Sagamore of the Wabash, presented to her family on December 22, 2016.  (See NWI Ti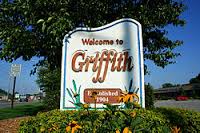 mes article, "Longtime Griffith Councilwoman Dies," 21 Dec 2016, and, Governor Honors Late Griffith Councilwoman 23 Dec 2016.)  Ms. Schaadt was a councilwoman for the Town of Griffith for many years, was a staple in the community, and will be sorely missed.  Understandably, it will be challenging for her successor to live up to the example that she set.
However, Ms. Schaadt's successor on the Town Council is a person best suited to fill the giant void left by such a Griffith icon.  Melissa Robbins was unanimously selected by a caucus on Monday, January 16, 2017 to serve out the remainder of Councilwoman Schaadt's term.  (See, NWI Times article, "Griffith Replaces Deceased Councilwoman," 16 Jan 2017.)  Ms. Robbins comes with glowing experience as a model citizen and shows great promise in serving the residents of Griffith in an exemplary way.  Ms. Robbins is well known for her service as a volunteer in many capacities throughout the Town of Griffith, and is already accomplished in her own right.
SFT Lawyers sends its condolences to the Schaadt family and to her extended family which includes the entire Town of Griffith, its representatives, employees, and residents.  Serving as the Griffith Town Attorneys, SFT Lawyers has had the pleasure of working with Ms. Schaadt for many, many years and will mourn her loss.  SFT Lawyers also looks forward to the exciting prospect of working alongside Ms. Robbins as she acclimates into her new role in continuing the phenomenal work of the Griffith Town Council.  SFT Lawyers wishes Ms. Robbins congratulations on her new position, and welcomes her to one of the best municipal governments in all of Indiana.  Welcome aboard!